Cobb County Solicitor General Barry E. Morgan, head of the office that prosecutes all misdemeanor DUI cases for the county, was arrested in Cherokee County for driving under the influence and failing to stay in his lane.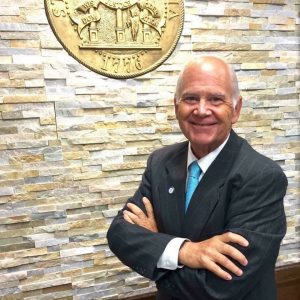 A Cherokee Sheriff's deputy arrested Morgan after spotting a red Chevrolet Corvette heading south on I-575 and swerving out of its lane, according to a press release from the Cherokee County Sheriff's Office.
Morgan's blood alcohol content was .097, according to the release. Drivers are considered legally drunk in Georgia with a blood alcohol content of .08, or higher.
A Cobb County native, Morgan has had a long and distinguished career as a prosecutor.
From 1988-92, he served as an Assistant District Attorney prosecuting narcotics and organized crime cases in Cobb County. He became the Chief Assistant Solicitor General for Cobb State Court in 1993, and served in that capacity until 1998, according to his biography on the Cobb County website.
Gov. Zell Miller appointed Morgan as the Solicitor General for Cobb County in 1998. He has been elected to that position six times since, most recently in 2018.
Mothers Against Drunk Driving named Morgan its 2013 Prosecutor of the Year in Georgia.
"I take full responsibility for my actions and decisions, and will accept the consequences as soon as a special prosecutor is appointed," Morgan said in the statement.
DUI Laws | What You Need to Know
The laws make it illegal for drivers of all ages to operate motor vehicles if they have BAC percentages of:
0.08% or higher, if they're 21 years old or older operating regular passenger vehicles.
0.04% or higher, if they're operating commercial vehicles.
0.02% or higher, if they're younger than 21 years old.
Georgia State law also requires clinical evaluation and the attendance of a DUI / Risk Reduction Program that's certified/licensed by the Georgia Department of Driver's Services before your driver's license can be reinstated if you have been charged with any of the following:
DUI
Drug Possession
Other drug offenses
Under-age possession of drugs or alcohol
Before getting behind the wheel after having a few, consider the many reasons why you should not.
For more information about DUI School visit www.a1drivingschools.com or call (770) 962-9555!