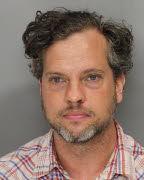 A teacher at Kennesaw Mountain High School faces assault and DUI charges after police say he drove under the influence of a hallucinogen and crashed his vehicle into another car carrying a couple and their 4-month-old infant.
Warrants show Joel Schroter, 43, of Marietta, was arrested after multiple witnesses to the crash said he'd seemingly intentionally swerved to crash his 2008 Mazda 3 into a vehicle at the intersection of Old 41 Highway and Barrett Parkway in Kennesaw and attempted to hit others.
Schroter is an orchestra instructor at Kennesaw Mountain High School.
A Kennesaw police officer wrote in the incident report, "As I approached the male he started jumping and dancing, and flailing his hands in the air stating, 'thank you God, thank you God,' and continued laughing very loud and giggling.'"
Police said both adults in the car appeared to have injuries, while the baby did not.
All three were transported to Wellstar Kennestone Hospital.
Police say two vehicles were disabled in the crash, and one witness caught the incident on a dashboard camera inside their car, warrants show.
Officers said Schroter had been driving under the influence of a drug — possibly LSD, cocaine, ecstasy or another synthetic/natural hallucinogen.
A-1 is glad to hear that this wasn't a fatal incident, and hope those involved a smooth recovery.
The next step for Schroter is to complete a clinical evaluation and the attendance of a DUI / Risk Reduction Program that's certified/licensed by the Georgia Department of Driver's Services before his driver's license can be reinstated since he has been charged with any of the following:
DUI
Drug Possession
Other drug offenses
Under-age possession of drugs or alcohol
Keep in mind: Before getting behind the wheel after having a few, consider the many reasons why you should not!
For more information about DUI School visit www.a1drivingschools.com or call (770) 962-9555!