Just two hours into the New Year, a Dallas man drove under the influence and injured himself, his passenger, and killed another man in a fatal three-car crash, Cobb County police said.
30-year-old Robert Godhigh of Dallas was driving southbound on Dallas Acworth Highway near Autumn View Drive with Berenice Sanchez, 22, as a passenger. Godhigh attempted to pass another car, driven by Khalil Wilson 22, of Acworth, by driving southbound in the northbound lane.
But another car, driven by Jermain Wilkins, 30, of Cartersville, was also driving northbound on the same road, approaching Autumn View Drive.
Godhigh crashed head-on into Wilkins' car, which came to rest on the eastern shoulder of the highway. Godhigh's car kept heading southbound and starting spinning counterclockwise due to the impact, hitting Wilson's car on the left side before finally stopping in the southbound lane of Dallas Acworth Highway.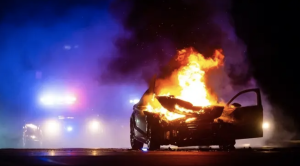 Wilson and his passenger, Camyrn Currie, 22, of Dallas, were not injured. Wilkins was pronounced dead on the scene by the Cobb County Medical Examiner's Office.
Godhigh and Sanchez, his passenger, were taken by ambulance to Wellstar Kennestone Hospital with serious injuries. Godhigh was admitted to the hospital but charged with first-degree vehicular homicide, driving under the influence, and improper passing.
The collision remains under investigation by the Cobb County Police Department.
Our condolences go out to the family and friends of those involved in this fatal accident.
DUI Laws | What You Need to Know
The laws make it illegal for drivers of all ages to operate motor vehicles if they have BAC percentages of:
0.08% or higher, if they're 21 years old or older operating regular passenger vehicles.
0.04% or higher, if they're operating commercial vehicles.
0.02% or higher, if they're younger than 21 years old.
Georgia State law also requires clinical evaluation and the attendance of a DUI / Risk Reduction Program that's certified/licensed by the Georgia Department of Driver's Services before your driver's license can be reinstated if you have been charged with any of the following:
DUI
Drug Possession
Other drug offenses
Under-age possession of drugs or alcohol
Before getting behind the wheel after having a few, consider the many reasons why you should not.
For more information about DUI School visit www.a1drivingschools.com or call (770) 962-9555!