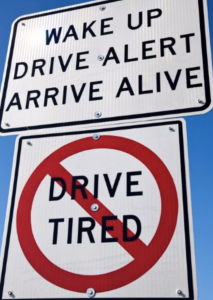 Teen drivers are considered to be one of the most vulnerable age groups for drowsy driving crashes and a majority of these types of crashes for drivers of all age groups happen overnight, often on rural roads and highways.
It's not always easy to tell when you're too tired to drive. Here are some signs that it's time to pull over:
Difficulty focusing, frequent blinking, or heavy eyelids
Daydreaming; wandering/disconnected thoughts
Trouble remembering the last few miles driven; missing exits or traffic signs
Yawning repeatedly or rubbing your eyes
Trouble keeping your head up
Drifting from your lane, tailgating, or hitting a shoulder rumble strip
Feeling restless and irritable
The same safe driving practices that are taught in A-1's Defensive Driving Class can apply to be a safe driver in a car and on a motorcycle. There is a lot of very useful and informative information in the class and it will apply whether you have been driving for years or you are a brand new driver.
For more information about class schedules or to see A-1's 19 convenient locations call (770)962-9555 or visit us at www.a1drivingschools.com!