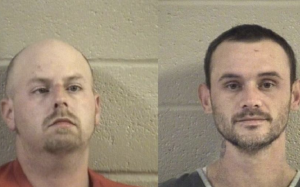 Both a driver and his passenger are facing charges in a hit-and-run incident that killed an 18-year-old northwest Georgia man. 
Emory Ware was crossing a Whitfield County highway when he was hit by a passing vehicle, according to the Georgia State Patrol. A trooper responding to the crash early that morning found the teen's body at the intersection of Ga. 3 and Maddox Chapel Road. 
The vehicle was gone by the time the trooper arrived. Evidence found at the scene pointed to a gray Buick Century, according to an accident report obtained by AJC.com.
The Buick was eventually traced to driver Eric Shane Moore. The 32-year-old was arrested on charges of homicide by vehicle in the first degree, hit-and-run and failure to report an accident resulting in death.
Moore, who is from Chatsworth, was driving on a suspended license at the time of the crash, authorities said. He is also facing charges of tampering with evidence and giving a false name to police.
Authorities are also seeking charges against Moore's passenger, identified by the GSP as 32-year-old Nathan Joe Call of Dalton. Call was arrested on felony charges of tampering with evidence and hit-and-run.
Both men are being held in the Whitfield County Jail without bond.
Remember, when you are a pedestrian at night the last thing you want to do is blend in.  By wearing bright colors that easily reflect light, such as white or yellow, you will stand out and become far more visible to drivers.  This can also be accomplished by wearing reflectors often found on bicycles, helmets and reflective vests.  Reflectors can make you visible in a car's headlights for up to 500 feet!
What Are Georgia's Rules for Crossing Intersections? 
Pedestrians must cross intersections at a crosswalk. While most people consider a crosswalk as the pathway across the intersection denoted with white lines (i.e., a marked crosswalk), it is important to note that there are both marked and unmarked crosswalks.
An unmarked crosswalk is a line between one side of the roadway and the other. The only way this differs from a marked crosswalk is that there are no distinguishing marks.
If a pedestrian is in either a marked or unmarked crosswalk, he has the right-of-way. Drivers must yield to pedestrians already inside these crosswalks, regardless of whether the driver has a green light or not.
What Responsibilities Do Drivers Have?
According to the Governor's Office of Highway Safety, motorists must stop and stay stopped for pedestrians at crosswalks. Drivers must stay put until the pedestrian has vacated the driver's side of the road.
Georgia law also holds that a driver cannot overtake another motorist who has stopped for a pedestrian.
The same safe driving practices that are taught in A-1's Defensive Driving Class can apply to be a safe driver in a car and on a motorcycle. There is a lot of very useful and informative information in the class and it will apply whether you have been driving for years or you are a brand new driver.
For more information about class schedules or to see A-1's 19 convenient locations call (770)962-9555 or visit us at www.a1drivingschools.com!