Less traffic on Georgia roads these days may seem like a welcome side benefit of this pandemic.
But metro law enforcement leaders complain they're seeing a new and more dangerous problem: more people driving not just fast, but at speeds over 100 miles an hour.
Snellville police ticketed this man for reckless driving and speeding. He was clocked going 103 in a 45 MPH zone. (Snellville police). The driver explained he was looking for a bathroom.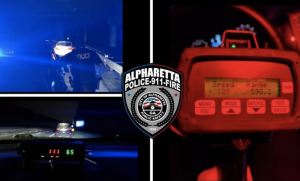 Alpharetta police had so many triple-digit speeders they created their own graphic warning people to slow down during this pandemic.
"I think people can't normally go this fast because traffic's usually more dense," said Snellville police chief Roy Whitehead. "But with the reduction of the number of cars that are out there, I think that there's more opportunity."
Speeding causes accidents!
Whether you are 15 and in need of taking the course or 45 and you just want to brush up on the rules and regulations of driving, A-1 Driving School is here to help!
Atlanta Drivers Education has been mandated for all 16-year-old drivers. We are here to spread the awareness of safe driving habits and that driving is a very serious responsibility.
We have 19 convenient locations around the metro Atlanta area offering different programs. For more information call (770)962-9555 or visit us at www.a1drivingschools.com!