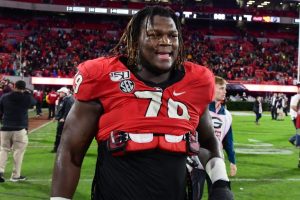 Isaiah Wilson was arrested and jailed on a DUI, according to the Nashville Tennessean.
Wilson, a first-round pick of the Tennessee Titans, was booked into jail.
The Tennessee Titans released the following statement:
"We are aware of the situation. This is not conduct that is indicative of the character of our football team and we are working through details on how to proceed."
The 6-foot-5, 350-pound Wilson has made his fair share of headlines in Nashville, and not all for the right reasons.
Wilson's name came up in a police report last month and received a trespass warning after he violated Tennessee State campus visitors policy.
Wilson is the second former Georgia first-round NFL pick arrested this offseason.
Georgia State law also requires a clinical evaluation and the attendance of a DUI / Risk Reduction Program that's certified/licensed by the Georgia Department of Driver's Services before your driver's license can be reinstated if you have been charged with any of the following:
DUI
Drug Possession
Other drug offenses
Under-age possession of drugs or alcohol
Before getting behind the wheel after having a few, consider the many reasons why you should not.
For more information about DUI School visit www.a1drivingschools.com or call (770) 962-9555!