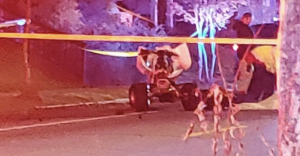 Police say the ATV driver was traveling east and tried to go around a car. The fire engine was traveling west. The fire engine had its lights and sirens activated at the time of the crash.
The driver of an all-terrain vehicle involved in a head-on collision with a fire engine in Georgia on Christmas has died.
No firefighters were physically injured.
Police say the ATV driver wasn't wearing a helmet. He was pronounced dead at the scene. Officials haven't released his identity.
While that requires you to check local regulations, generally an ATV or UTV in Georgia must remain on designated roads, trails or in designated areas marked specifically for off-road vehicle use.
There are specific areas in Georgia where riders are permitted to operate an ATV or UTV without a driver's license.  These areas are specially designated and the driver must be accompanied by a licensed adult.  Outside of these areas, you must have a valid driver's license to operate an ATV or UTV on public land in Georgia.
You are not permitted to operate ATVs or UTVs on public streets in Georgia.
Consider taking a driving course at A-1 if you are interested in learning more rules and regulations such as these. There is a lot of very useful and informative information in the class and it will apply whether you have been driving for years or you are a brand new driver.
The same safe driving practices that are taught in A-1's Defensive Driving Class can be applied to be a safe driver in a car and on a motorcycle!
For more information about class schedules or to see A-1's 19 convenient locations call (770)962-9555 or visit us at www.a1drivingschools.com!