Under recently passed legislation, higher penalties could soon be a result for people arrested on street racing-related charges.
State lawmakers passed the street racing bill at the end of this year's legislative session, with bipartisan support in the House and Senate. It also has the endorsement of Gov. Brian Kemp, who publicly backed the bill during a February press conference, though he has not said when he might sign it into law.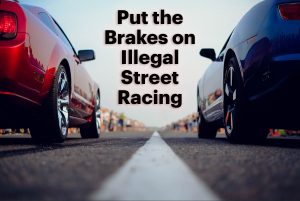 The new measure follows attempts by police departments and city governments in metro Atlanta to crack down "street racing" (dangerous driving in parking lots or on roads, or doing stunts in front of a cheering crowd).
Authorities said there was an uptick in 2020 as the pandemic emptied parking lots and streets, endangers drivers and pedestrians and the noise is a nuisance for nearby residents.
The measure, House Bill 534, allows authorities to suspend the licenses of some violators for up to a year and calls for penalties as high as $5,000. It creates the offense of "reckless stunt driving" and allows authorities to seize cars that are involved. Repeat offenders could be charged with a felony and face additional prison time.
Speeding is more than just breaking the law…
The consequences are far-ranging:
Greater potential for loss of vehicle control;
Reduced effectiveness of occupant protection equipment;
Increased stopping distance after the driver perceives a danger;
Increased degree of crash severity leading to more severe injuries;
Economic implications of a speed-related crash; and
Increased fuel consumption/cost.
Whether you are 15 and in need of taking the course or 45 and you just want to brush up on the rules and regulations of driving, A-1 Driving School is here to help!
We have 19 convenient locations around the metro Atlanta area offering different programs. For more information call (770)962-9555 or visit us at www.a1drivingschools.com!