This means cases will now be prosecuted in a higher court.
Before DUIs were prosecuted in the recorders court.
The cases will instead be bound over and handled in Gwinnett's State Court for motions and trials.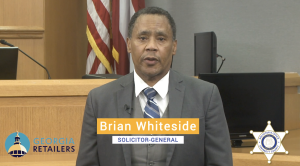 "I have chosen to discontinue hearing these types of cases at Recorder's Court because it is not a court of record, and the appellate process from motions decided in Recorder's Court is limited to the Gwinnett County Superior Court," Brian Whiteside said in a statement.
"In my judgment, decisions concerning violation of O.C.G.A § 40-6-391 (the section of Georgia law dealing with DUI) are so impactful that they should be heard by the Georgia Court of Appeals or the Supreme Court of Georgia."
Whiteside said defendants who are likely to plead guilt or nolo contendere to DUI charges in Recorder's Court will not be affected by the change.
Penalties for DUI in Georgia are related to the number of prior offenses:
When someone has a first DUI in Georgia they face the following potential penalties:
12 months of probation
A minimum fine of $300 plus court costs and surcharges
Between 1 – 10 days in jail, which many times can be waived
At least 40 hours of community service
Substance abuse counseling
Attendance of the DUI Risk Reduction School (commonly referred to as DUI School)
Attendance of a Madd Mothers Victim Impact Panel
Drivers License Suspension, with a limited permit to drive
Georgia State law also requires clinical evaluation and the attendance of a DUI / Risk Reduction Program that's certified/licensed by the Georgia Department of Driver's Services before your driver's license can be reinstated if you have been charged with any of the following:
DUI
Drug Possession
Other drug offenses
Under-age possession of drugs or alcohol
For more information about DUI School visit www.a1drivingschools.com or call (770) 962-9555!