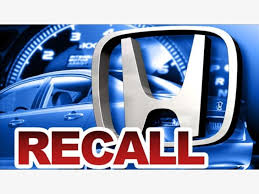 Honda has announced recalls of 430,000 vehicles to check and potentially replace the left and/or right front driveshafts because of salt corrosion. T
he recall will include the 2007–2014 Honda Fit, the 2012 Honda Civic Hybrid, the 2013 Acura ILX Hybrid, the 2013–2015 Acura ILX, and the 2013–2015 Honda Accord. The Accord is under a separate recall from the other vehicles, Honda said.
The automaker said the problem with the driveshafts is "a combination of potentially damaged or incorrectly cured protective coatings during driveshaft assembly and long-term exposure to road salt primarily used in the northeastern United States.
" If a driveshaft were to break, it could cause the vehicle to lose motive power or to roll while in park if the parking brake is not in use. However, Honda said no accidents or injuries have been reported to date.
Honda will recall 737,000 cars to update body control module (BCM) software. The problem is a "programming flaw" that could cause warning lights to light up unnecessarily and the rearview camera display, turn signals, and wipers to malfunction. There have been no reports of accidents or injuries.
This recall includes 2018–2020 Accord and Accord Hybrid and 2019–2020 Honda Insight vehicles. Owners will be notified starting in January, and they are asked to take their vehicles in to dealers for a software update to address the problem.
Whether you have been driving for years or you are a brand new driver, A-1 offers classes that will help you brush up on some rules and regulations before it's too late.
If you have a clean driving record for 3 years, you may take the 6-hour Defensive Driving Program to receive a 10% -15% discount on your auto insurance premium. The insurance discount percentage is determined by your insurance company.
For more information about class schedules or to see A-1's 19 convenient locations call (770)962-9555 or visit us at www.a1drivingschools.com!