A Suwanee motorcyclist in Gwinnett County died after he was hit by a car and thrown from his bike, officials said.
Robert Boren, 49, of Suwanee, died in a hospital after he was injured in the wreck, according to Gwinnett police spokeswoman Cpl. Michele Pihera.
Officers were sent to the intersection of Collins Hill and Russell roads in Lawrenceville, Pihera said.
Police said Boren was heading straight when the driver of a Honda Accord tried to make a left turn and hit him.  The driver and a passenger in the Accord were not hurt, she said.
Both vehicles were impounded after the crash, which is still under investigation.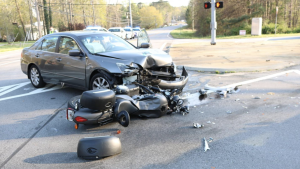 Here are some quick tips for motorists:
Get plenty of rest. Symptoms of drowsy driving can include having trouble keeping your eyes open, drifting from lanes, or not remembering the last few miles driven.
Get some shades. Wear high-quality sunglasses and adjust the car's sun visors as needed to avoid glare in the morning.
Change driving habits. Reduce speeds and increase following distances, especially in more populated areas.
Ditch the distractions. This can include cell phones, infotainment systems, or clocks that need to be turned back an hour.
Use the headlights. This can make you more visible to pedestrians in the morning and evening. Don't forget, even though the time changed, many will stick to their normal habits of walking home or exercising in the later hours.
Remember to yield. Pedestrians have the right of way in crosswalks. Also, don't pass vehicles stopped at crosswalks. Remember to yield the right of way to pedestrians in crosswalks.
The same safe driving practices that are taught in A-1's Defensive Driving Class can apply to be a safe driver in a car and on a motorcycle. There is a lot of very useful and informative information in the class and it will apply whether you have been driving for years or you are a brand new driver.
For more information about class schedules or to see A-1's 19 convenient locations call (770)962-9555 or visit us at www.a1drivingschools.com!
Our condolences to the family and friends of Robert Boren.