The crash happened along Highway 53 in Floyd County. Police said a drunk, wrong-way driver hit the teen's truck head-on.
It burst into flames, trapping a teen inside.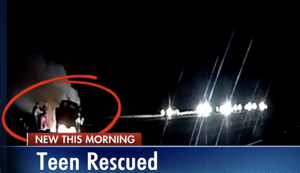 A driver recorded the moment officer Blake Puckett put his life on the line.
Puckett noticed 18-year-old Laurel Putnam strapped in her seatbelt and unconscious. He pulled out his knife and cut her free right before flames engulfed the truck.
Officers arrested the other driver, who they believe was drunk and driving with no license or insurance.
Puckett was commended for his performance by Sgt. Josh Ward, who said "there is no doubt that if Pfc. Puckett would not have gotten the female out of the car when he did … she would not be with us at this time. His swift actions and calm demeanor saved her life."
The police department also wanted to thank other passersby who helped at the scene.
The latest records from Georgia's Department Driver Services show police arrested 19,000 drunk drivers in 2019.
DUI crashes along interstates and roadways, according to the Governor's Office of Highway and Safety accounted for 353 fatal accidents in 2019.
Georgia State law also requires a clinical evaluation and the attendance of a DUI / Risk Reduction Program that's certified/licensed by the Georgia Department of Driver's Services before your driver's license can be reinstated if you have been charged with any of the following:
DUI
Drug Possession
Other drug offenses
Under-age possession of drugs or alcohol
Before getting behind the wheel after having a few, consider the many reasons why you should not.
For more information about DUI School visit www.a1drivingschools.com or call (770) 962-9555!