Officials say Sgt. Daniel Mobley was hit by a vehicle while at the scene of an accident involving another officer along the Downtown Connector near Andrew Young International Blvd.
Mobley was struck by a car as he was getting out of his patrol unit. Medics rushed him to Grady Memorial Hospital, but he did not survive his injuries.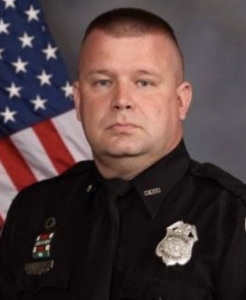 "Sergeant Mobley was responding to the area of I-85 and 75 to investigate a crash one of our officers was involved in," said DeKalb County Police Chief Mirtha Ramos. "Unfortunately as he exited the vehicle he was struck by an oncoming car."
The Georgia State Patrol said the driver of a Ford Focus lost control going into a curve, struck the right concrete barrier wall, and then struck Sgt. Mobley and his patrol car.
The driver of the Ford Focus also was taken to Grady, but only suffered minor injuries, troopers said.
"If we are driving a county vehicle a supervisor has to respond to investigate it. It's like an independent investigation outside the crash. We do our own supervisory investigation," the chief said. "When one of our officers is involved in an accident a supervisor has to respond and do a supervisory investigation. He was on his way to do just that. So, he himself was on his way to investigate an accident that had already occurred when he himself became the victim of an accident."
The off-duty officer was not injured in either crash but is hurting along with his colleagues at Mobley's loss.
The Georgia State Patrol released a statement late Saturday that reads:
"Our thoughts and prayers are with Sgt. Mobley's family, loved ones, and the entire DeKalb County Police Department."
Officials are asking people to pray for Mobley and his family.
The Georgia Move Over Law requires drivers to move-over one lane when possible if an emergency vehicle with flashing lights is parked on the shoulder of the highway. And if traffic is too heavy to move-over safely, the law requires drivers to slow down below the posted speed limit instead AND to be prepared to stop.
Move Over Law:
 The operator of a motor vehicle approaching a stationary authorized emergency vehicle that is displaying flashing yellow, amber, white, red, or blue lights shall approach the authorized emergency vehicle with due caution and shall, absent any other direction by a peace officer, proceed as follows:
1. Make a lane change into a lane not adjacent to the authorized emergency vehicle if possible in the existing safety and traffic conditions; or
2. If a lane change under paragraph (1) of this subsection would be impossible, prohibited by law, or unsafe, reduce the speed of the motor vehicle to a reasonable and proper speed for the existing road and traffic conditions, which speed shall be less than the posted speed limit, and be prepared to stop.
Violation of subsection (a) or (b) of this Code section shall be punished by a fine of not more than $500.00.
There is a lot of useful information such as this Move Over Law that is taught in driving the class and it will apply whether you have been driving for years or you are a brand new driver.
For more information about class schedules or to see A-1's 19 convenient locations call (770)962-9555 or visit us at www.a1drivingschools.com!