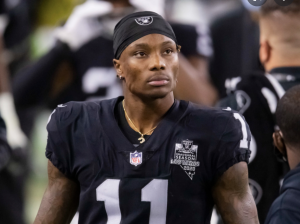 Henry Ruggs III, 22, and his passenger were hospitalized with unspecified injuries that police said did not appear life-threatening after the Chevrolet Corvette he was driving slammed at high speed into the rear of a Toyota Rav4 on a busy thoroughfare in a residential area several miles west of the Las Vegas Strip.
The Toyota burst into flames and the driver and her dog died, police said. The woman was not immediately identified.
Police are prohibited by federal privacy law from disclosing medical information, said Officer Larry Hadfield, a department spokesman.
Ruggs faces felony charges of driving under the influence of alcohol resulting in death and reckless driving, court records show.
Ruggs' attorneys, David Chesnoff and Richard Schonfeld, said they are investigating the crash on behalf of their client "and ask everyone to reserve judgment until all the facts are gathered."
Chesnoff declined additional comment after Ruggs was released from University Medical Center and booked into the Clark County Detention Center.
The Raiders released a statement saying the team was aware of the crash, "devastated by the loss of life," and "in the process of gathering information." It said the team's thoughts and prayers went out to the victim's family and that there would be no additional comment.
Our condolences go out to the family and friends of those involved in this fatal accident.
DUI Laws | What You Need to Know
The laws make it illegal for drivers of all ages to operate motor vehicles if they have BAC percentages of:
0.08% or higher, if they're 21 years old or older operating regular passenger vehicles.
0.04% or higher, if they're operating commercial vehicles.
0.02% or higher, if they're younger than 21 years old.
Georgia State law also requires clinical evaluation and the attendance of a DUI / Risk Reduction Program that's certified/licensed by the Georgia Department of Driver's Services before your driver's license can be reinstated if you have been charged with any of the following:
DUI
Drug Possession
Other drug offenses
Under-age possession of drugs or alcohol
Before getting behind the wheel after having a few, consider the many reasons why you should not.
For more information about DUI School visit www.a1drivingschools.com or call (770) 962-9555!