A Monroe man died after colliding with an SUV on Highway 78 near Rosebud Road in a wreck that temporarily shut down the highway.
Bailey Hill was driving his motorcycle eastbound on Highway 78 near Loganville at about 8:30 a.m. when he apparently ran a red light and collided with an SUV, police said.
He was ejected from the motorcycle and later died at a local hospital.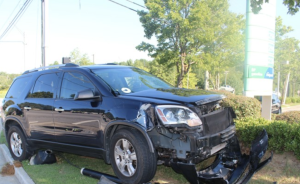 Following the impact with Hill, the driver of the SUV veered off the road and ran over a sign. It's not immediately clear who was driving the SUV or whether they were injured.
Both vehicles were impounded to the Gwinnett County Police Department Headquarters for further analysis, and the department's accident investigation unit is looking into the wreck.
Our condolence goes to the family and friends of Bailey Hill.

As a driver, it's almost second nature to drive in traffic with other cars or trucks. However, when driving in traffic with motorcycles, there are other considerations drivers should make.
Here are some helpful suggestions about how to share the road with motorcycles, and keep both you and the motorcyclists safer:
Pay attention.
Signal in time so that a motorcyclist may react to your vehicle.
Observe an ongoing turn signal on a motorcycle as a forgotten turn signal.
Follow with plenty of room to spare.
Stay aware when approaching intersections or preparing to make a turn.
Realize road conditions affect motorcyclists more than drivers of other vehicles.
The same safe driving practices that are taught in A-1's Defensive Driving Class can apply to be a safe driver in a car and on a motorcycle. There is a lot of very useful and informative information in the class and it will apply whether you have been driving for 30 years or you are a brand new driver.
For more information about class schedules or to see A-1's 19 convenient locations call (770)962-9555 or visit us at www.a1drivingschools.com!