Cherokee County Schools school bus drivers, bus technicians, and transportation support staff engaged in annual training together in July, brushing up on safety procedures and preparing to run routes for 2019-20.
Director Jim Georges also took the opportunity to recognize several members of the Transportation staff for recent achievements, including the local winners of the School Bus Road-E-O driving competition.
CCSD first-place Road-E-O driver Christine Minter placed 10th overall at the state competition, which was held in June in Warner Robins.
Mary Stout placed second in the CCSD Road-E-O and Greg Caudle placed third.
CCSD's Special Needs team Paige Waters, driver, and Debbie Prater, monitor, won third place in the state competition.
Vehicle technician Jeremiah Bradberry was recognized for his third-place win in the State Technician competition.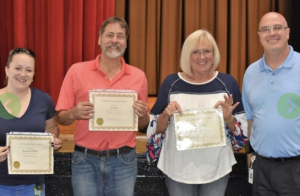 Thank you to the Cherokee bus drivers and to all of the other bus drivers who work hard to keep our kids safe!
The common rule of always stopping for a stopped school bus is not always correct.
Always Stop for a School Bus, when…
Approaching behind a school bus when its' lights flash yellow and red.
Driving on either side of a 2-lane highway, both sides of traffic must always stop! for a stopped school bus.
Never Stop for a School Bus, when…
Driving on the opposite side of traffic, on a 4-lane highway.
This is the common mistake most motorists make when approaching a stopped school bus.
If you are driving on the opposite side of the traffic of a school bus, on a 4-lane highway, always proceed with caution, but always keep moving! Stopping will impede traffic and may cause accidents.
To combat careless driving in school zones and bus routes, law enforcement has increased between 6:00 am to 9:00 am and 3:00 pm to 6:00 pm.
For more safe driving information or safe driving practices, A-1 Driving Schools has 19 convenient locations around metro Atlanta that all offer defensive driving courses!
For more information please call (770)962-9555 or visit us at www.a1drivingschools.com!