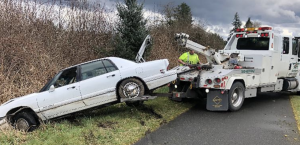 A man was arrested after leading troopers on a high-speed chase with his dog sitting in the driver's seat, a spokeswoman for the Washington State Patrol said.
The man from Lakewood, Washington, hit two cars on separate occasions and failed to stop both times, leading state troopers on a high-speed chase up Interstate 5, the spokeswoman said. No major injuries were reported in either crash.
"He was driving very erratically. So erratically that multiple people called 911," trooper Heather Axtman told CNN.
The suspect was driving "absolutely recklessly," and a pursuit ensued at 109 miles an hour, she said. One of the troopers attempted to corner the suspect's car, looked inside and realized a pit bull was sitting in the driver's seat while the suspect steered, Axtman said.
As he was trying to evade troopers, the suspect drove onto Centennial Trail, a trail for pedestrians and bicyclists in Snohomish County known for being busy, according to Axtman.
What Is Distracted Driving?
Distracted driving is any activity that diverts attention from driving, including talking or texting on your phone, eating and drinking, talking to people in your vehicle, fiddling with the stereo, entertainment or navigation system—anything that takes your attention away from the task of safe driving.
Texting is the most alarming distraction. Sending or reading a text takes your eyes off the road for 5 seconds. At 55 mph, that's like driving the length of an entire football field with your eyes closed.
You cannot drive safely unless the task of driving has your full attention. Any non-driving activity you engage in is a potential distraction and increases your risk of crashing.
Driving practices and rules that are taught in A-1's Defensive Driving Class can be applied to be a safe driver. There is a lot of very useful and informative information in the class and it will apply whether you have been driving for years or you are a brand new driver.
For more information about class schedules or to see A-1's 19 convenient locations call (770)962-9555 or visit us at www.a1drivingschools.com!