The ACC DUI Treatment Court is one of four courts selected by the National Center for DWI Courts and the National Highway Traffic Safety Administration. It is the only court selected on five consecutive occasions.
According to their website, the mission of the Athens court is to improve public safety in Athens while saving lives and families through their program based on support, supervision, and accountability. National Academy Courts are identified as "exemplary DWI courts," according to the NCDC website. These courts host foundational trainings, participate in research and media and "serve as a national model for DWI courts."
Lee Rushton, the coordinator for the ACC DUI Treatment Court, said they have about 70 participants in the program at a time with a graduation rate of 53%. Participants stay under the supervision of the court for at least 14 months or until their probation expires, at which point they can continue to seek counseling through local agencies. This accounts for many of the people who do not officially graduate from the program.
"Athens has prioritized people's well-being. It has fostered an environment for people to seek stability and reach their full potential," said Judge Charles Auslander, presiding judge of the Athens court, during his closing remarks at the ceremony.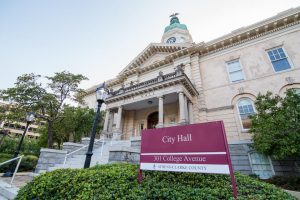 A-1 Driving School has helped thousands of drivers with DUI School and Risk Reduction classes, Defensive Driving courses, Driver's Education/Joshua's Law programs, and Teen/Adult Driving lessons.
With 19 convenient locations in and around the Metro Atlanta area, offering both day, evening classes, and online classes, we make traffic school efficient and easy.
As advocates for safe driving practices, we would like to congratulate the amazing job that the ACC DUI Treatment Court has been doing and will continue to do!