The girlfriend of Yankees slugger Aaron Judge pleaded guilty to misdemeanor DUI after cutting a deal with prosecutors, TMZ reported.
Samantha Bracksieck, 26, was arrested for extreme DUI and four other charges while in Arizona for spring training.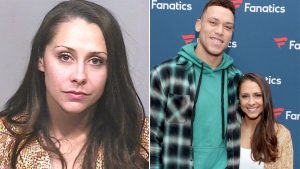 Extreme DUI, which is classified as a BAC of .15-.19 (or about twice the legal limit), usually comes with a mandatory minimum of 30 days in jail and Arizona is one of the toughest states with regards to sentencing, an attorney not involved with the case stated.
Bracksieck was sentenced to 10 days in jail and a judge ordered Bracksieck to attend an alcohol abuse screening and pay over $2,000 in fines and fees.
Bracksieck has had an on and off relationship with Judge, the 28-year-old face of the Yankees, since the two attended high school together in northern California.
"Do you know who my boyfriend is? … My boyfriend is in the spotlight in New York media in general," Bracksieck said on police bodycam footage after being pulled over because her headlights were off and she was traveling 10 mph over the speed limit. "And now here I am handcuffed in Arizona … Like, that is not good."
DUI Laws | What You Need to Know
The laws make it illegal for drivers of all ages to operate motor vehicles if they have BAC percentages of:
0.08% or higher, if they're 21 years old or older operating regular passenger vehicles.
0.04% or higher, if they're operating commercial vehicles.
0.02% or higher, if they're younger than 21 years old.
Georgia State law also requires clinical evaluation and the attendance of a DUI / Risk Reduction Program that's certified/licensed by the Georgia Department of Driver's Services before your driver's license can be reinstated if you have been charged with any of the following:
DUI
Drug Possession
Other drug offenses
Under-age possession of drugs or alcohol
Before getting behind the wheel after having a few, consider the many reasons why you should not.
For more information about DUI School visit www.a1drivingschools.com or call (770) 962-9555!