The actor and comedian was detained after Peachtree City Police got a call about 2:30 a.m. regarding a driver asleep at the wheel on a highway, Assistant Police Chief Matt Myers said in a news release. An officer saw a vehicle matching the caller's description and stopped Haddish as she pulled into the yard of a residence, Myers said.
Haddish later posted a $1,666 bond and was released from the Fayette County Jail, Myers said. He did not release any information about a possible court date.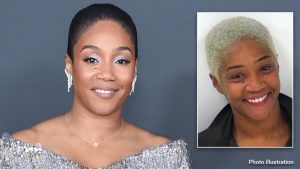 Haddish was the breakout star of the smash comedy "Girls Trip" and has starred in such movies as "The Kitchen," "Night School" and "Like A Boss." She's also written the New York Times best-seller, "The Last Black Unicorn" and hosted the popular television show "Kids Say The Darndest Things."
Tiffany Haddish was arrested and charged with driving under the influence, authorities said.
DUI Laws | What You Need to Know
The laws make it illegal for drivers of all ages to operate motor vehicles if they have BAC percentages of:
0.08% or higher, if they're 21 years old or older operating regular passenger vehicles.
0.04% or higher, if they're operating commercial vehicles.
0.02% or higher, if they're younger than 21 years old.
Georgia State law also requires clinical evaluation and the attendance of a DUI / Risk Reduction Program that's certified/licensed by the Georgia Department of Driver's Services before your driver's license can be reinstated if you have been charged with any of the following:
DUI
Drug Possession
Other drug offenses
Under-age possession of drugs or alcohol
Before getting behind the wheel after having a few, consider the many reasons why you should not.
For more information about DUI School visit www.a1drivingschools.com or call (770) 962-9555!