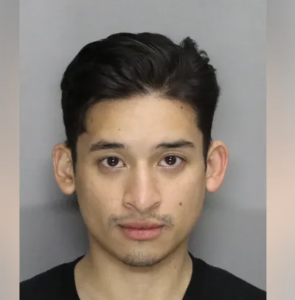 Elmer Josue Santizo-Gomez, 24, of Kennesaw, improper passing of bicyclist, DUI; hit and run, and vehicular homicide.
It happened just after midnight along Ernest Barrett Parkway at Crater Lake Drive. Kennesaw police said a bicyclist, later identified as 67-year-old Arturo Vela Mantilla of Kennesaw, was struck from behind and was thrown off.
He was rushed to Wellstar Kennestone Hospital where he later died.
Santizo-Gomez who drove the silver 2006 Honda Civic that struck the cyclist left the scene. Investigators were able to track that vehicle to a home in Kennesaw and to Santizo-Gomez who was taken into custody.
Santizo-Gomez was booked into the Cobb County jail.
Our condolences go to the family and friends of Arturo Mantilla.
Police said the bike was equipped with the proper headlight and taillight.
Georgia State law  requires a clinical evaluation and the attendance of a DUI / Risk Reduction Program that's certified/licensed by the Georgia Department of Driver's Services before your driver's license can be reinstated if you have been charged with any of the following:
DUI
Drug Possession
Other drug offenses
Under-age possession of drugs or alcohol
In 2019, the latest year for which data is available, 846 bicyclists were killed and 49,000 were injured in traffic crashes, according to the National Highway Traffic Safety Administration, which collects data from police reports. 
A combination of consistent education, regard for traffic laws, and basic common sense can go a long way in helping reduce the number of fatalities involved in motorcycle accidents on a yearly basis. It's important to understand some basic bicycle safety tips to make sure your next ride is a safe one.
Safe driving practices that are taught in A-1's Defensive Driving Class can be applied to being a safe driver in a car and on a motorcycle. There is a lot of very useful and informative information in the class and it will apply whether you have been driving for years or you are a brand new driver.
For more information about class schedules or to see A-1's 19 convenient locations call (770)962-9555 or visit us at www.a1drivingschools.com!