According to police, when they chased the driver, he accelerated even faster and his car went airborne across McFarland Parkway, struck a median and flipped over a guardrail.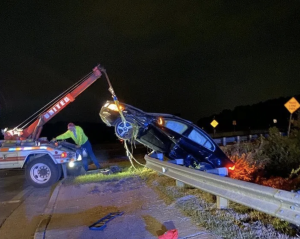 Below is the information about the incident from the Alpharetta department's Facebook page:
"While this driver is facing several charges, we're so very thankful we didn't have to deliver a fatality notification to his, or anyone else's family.
"One of our DUI Officers clocked this Volvo traveling 131 mph, heading north on GA 400 through Alpharetta near Haynes Bridge Road. Our officer tried to catch up and stop the car, but once the driver saw the blue lights, he accelerated faster and per our officer, "He tried to exit at McFarland Pkwy but was going too fast, went airborne across McFarland, hit the concrete median, and flipped over the guardrail. He was able to walk out".
Charges include DUI, Open Container of Alcohol, Reckless Driving, Speeding, Fleeing and Eluding from Law Enforcement.
How do you keep a car from going airborne? The true answer is that you have to slow down!
Georgia State law also requires clinical evaluation and the attendance of a DUI / Risk Reduction Program that's certified/licensed by the Georgia Department of Driver's Services before your driver's license can be reinstated if you have been charged with any of the following:
DUI
Drug Possession
Other drug offenses
Under-age possession of drugs or alcohol
Before getting behind the wheel after having a few, consider the many reasons why you should not.
For more information about DUI School visit www.a1drivingschools.com or call (770) 962-9555!