The girls in foster care were found dead in a hot vehicle in Georgia, according to a statement by the City of Hinesville.
The statement said someone called 911 at 1:42 p.m. to report that two children who'd been missing had been found unresponsive in a vehicle in the backyard of a home.
First responders arrived and found the two deceased toddlers inside. The temperature was around 92 degrees Fahrenheit at the time, according to CNN Weather.
The girls, Raelynn and Payton Keyes, and according to Whitney Morris-Reed, public relations manager for the City of Hinesville. Police said the girls didn't reside at the house where they were found but often spent time there.
"A search warrant for the home was obtained and GBI was contacted to assist with the investigation," according to the city's statement. "A crime scene unit processed the scene with the assistance from GBI and the bodies of the children were removed from the scene and taken to the crime lab. Autopsies will be performed on Monday, September 30."
Captain Tracey Howard with Hinesville police told CNN that it's too early in the investigation to determine how the children ended up inside the car.
The girls had been living with their foster parents and two other siblings for about a year and a half.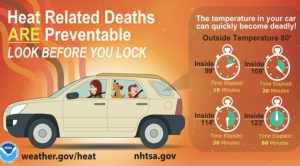 Why leaving children in a hot car is dangerous:
There is no safe amount of time to leave any child in a car alone! Every 10 days in the U.S. a child dies when left alone in the car. The temperature in a car rises rapidly in the first 30 minutes, even on a cool day. Additionally, leaving the car windows open or cracking them open does not allow enough air into the vehicle.
If a child is overheating, they will present some or all of these symptoms:
Agitation
Disorientation
Dizziness
Nausea
Rapid breathing
Seizure
Unconsciousness
Vomiting
A child's body warms up 3-5 times faster than an adult's body!
Do you want to learn more about safe driving practices?
These and many more are tips and tricks that are taught at A-1 Driving School! You can apply to be a safe driver in a car today. There is a lot of very useful and informative information in the class that you can apply to your daily driving habits.
For more information about class schedules or to see A-1's 19 convenient locations call (770)962-9555 or visit us at www.a1drivingschools.com!