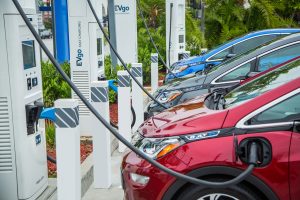 GM has announced that it is recalling every Chevrolet Bolt made to date, including new electric utility vehicle models, over concerns that a manufacturing defect in the cars' LG-made batteries could cause a fire.
The recall now numbers 141,000 electric vehicles over six model years, every Bolt the company has built since sales began in December 2016.
No schedules have been given for any cell replacements. Roughly a dozen fires in Bolt EVs have been publicly identified. To date, no injuries or deaths are attributed to the problem.
GM initially advised owners to limit charging, but it then announced that it would recall 69,000 early Bolt EVs to replace the suspect packs, which it said would cost about $800 million.
GM will replace defective lithium-ion battery modules in Chevrolet Bolt EVs and EUVs with new lithium- ion modules. They will notify customers when replacement parts are ready. Until then, owners should following these guidelines:
Set your vehicle to a 90 percent state of charge limitation using Hilltop Reserve mode (for 2017-2018 model years) or Target Charge Level (for 2019-2022 model years) mode. Instructions on how to do this are available in the videos below. If you unable to successfully make these changes, or do not feel comfortable making these changes, GM is asking you to visit your dealer to have these adjustments completed.
Charge your vehicle more frequently and avoid depleting their battery below approximately 70 miles (113 kilometers) of remaining range, where possible.
Park your vehicle outside immediately after charging and do not leave your vehicle charging indoors overnight.
Whether you have been driving for years or you are a brand new driver, A-1 offers classes that will help you brush up on some rules and regulations before it's too late.
If you have a clean driving record for 3 years, you may take the 6-hour Defensive Driving Program to receive a 10% -15% discount on your auto insurance premium. The insurance discount percentage is determined by your insurance company.
For more information about class schedules or to see A-1's 19 convenient locations call (770)962-9555 or visit us at www.a1drivingschools.com!