A 17-year-old struck by a DUI driver in Georgia was blamed for her own death by an officer who didn't understand state laws pertaining to bicyclists.
Ignorance of the law by officials is just one of a laundry list of threats bike riders have to deal with on a daily basis.
Obianuju Osuegbu was on her way home when she was hit from behind on Highway 11 in Winder, Georgia back in August 2020, according to WSBTV-2, by driver Chrissy Rawlins. Rawlins was charged with DUI and endangering her own children, but not with Osuegbu's death due to cops not making up Georgia laws pertaining to bicyclists and putting the blame on Osuegbu.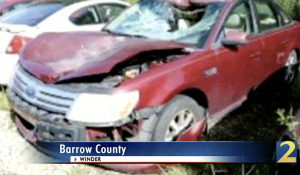 Rawlins wasn't just intoxicated the night of the crash, she was rocking four illegal substances in her bloodstream, including methamphetamine and Valium.
Being a bicyclist is incredibly dangerous in America, and the law certainly does little to back up bike riders.
Deaths have been on the rise over the last decade. From a 2010 low of 618 deaths, the most recent data available from 2019 pegs deaths at an astonishing 846 deaths, according to the National Highway Traffic Safety Administration.
How to keep bicyclists safe:
Watch for vehicles coming out of or turning into driveways.
Stop at corners of sidewalks and streets to look for anyone crossing before driving
3 Feet of Clearance: More than 20 states have passed laws requiring motorists to give bicycles on the road about 3 feet of space.
DUI Laws | What You Need to Know
The laws make it illegal for drivers of all ages to operate motor vehicles if they have BAC percentages of:
0.08% or higher, if they're 21 years old or older operating regular passenger vehicles.
0.04% or higher, if they're operating commercial vehicles.
0.02% or higher, if they're younger than 21 years old.
Georgia State law also requires clinical evaluation and the attendance of a DUI / Risk Reduction Program that's certified/licensed by the Georgia Department of Driver's Services before your driver's license can be reinstated if you have been charged with any of the following:
DUI
Drug Possession
Other drug offenses
Under-age possession of drugs or alcohol
Before getting behind the wheel after having a few, consider the many reasons why you should not.
For more information about DUI School visit www.a1drivingschools.com or call (770) 962-9555!