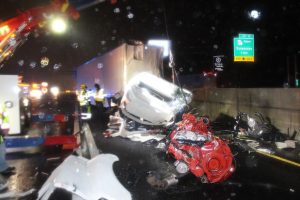 Police charged a 28-year-old woman with homicide by vehicle and other traffic charges after she was involved in an accident that killed two commercial truck drivers and shut down Interstate 85 for several hours.
Police said Leah Knox was arrested and transported to the Gwinnett County Jail after being released from the hospital. Police charged her with homicide by vehicle, failure to maintain lane and driving too fast for conditions.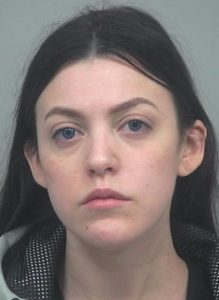 Police said alcohol consumption does not appear to be a contributing factor; however, speed and weather conditions are being investigated.
Gwinnett County police officers responded to the crash on I-85 southbound between Lawrenceville-Suwanee Road and Old Peachtree Road in unincorporated Suwanee. Officers saw three vehicles involved in the crash, two tractor-trailers and Knox's grey 2009 Mitsubishi Eclipse.
Police said the drivers of both commercial tractor-trailers were dead. The victims were 63-year-old Stockbridge man Robert Kent and 50-year-old Decatur man Raymond Samuel. Knox was transported to a hospital with non-life-threatening injuries.
Based on the preliminary investigation, evidence at the scene and witness statements, investigators believe Knox lost control of her car and made an impact with a guardrail on the right side of the roadway. The tractor-trailer driven by Kent struck the Mitsubishi after it bounced off the guardrail and reentered the roadway. Kent's vehicle continued forward and struck the center median wall.
Police said the movements of the tractor-trailer driven by Samuel are still being investigated. Investigators are trying to determine whether it struck the Mitsubishi or Kent's tractor-trailer.
Our condolences go out to the family and friends of those involved in this tragic accident.
Speed
The first thing standing between you and safety during a wet commute is your speed. Speed factors into everything where driving is concerned. A rule of thumb is recommended that you decrease your speed by a third during wet conditions. Let's do the math; If you're driving the speed limit down at 65 mph normally, then during wet conditions you should drive 43 mph. Speed in wet conditions affect stopping and braking distance too.
Everyone will have to deal with hydroplaning at some point or other, in wet road conditions. Do you know how to respond if your car begins to hydroplane?
Hydroplaning, Regaining Control
Safety in wet road conditions should also include how to react in case of incidents like hydroplaning. If you begin to lose control of your vehicle in wet conditions you should first avoid slamming on the brake. It may be easier said than done but it helps. Slamming on the brake throws the vehicle's balance off even further and makes re-establishing control of the wheel, much more difficult. When losing control you should remain as observant as possible and steer the car in the direction you want it to go.
Consider taking a driving course at A-1 if you are interested in learning more rules and regulations such as these. There is a lot of very useful and informative information in the class and it will apply whether you have been driving for years or you are a brand new driver.
The same safe driving practices that are taught in A-1's Defensive Driving Class can be applied to be a safe driver in a car and on a motorcycle!
For more information about class schedules or to see A-1's 19 convenient locations call (770)962-9555 or visit us at www.a1drivingschools.com!