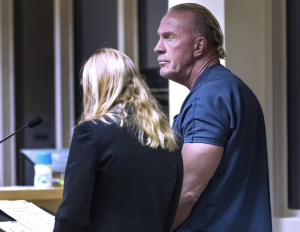 Mark Hildreth, who was a professional wrestler under the name 'Van Hammer,' was traveling 58 mph in a 35 mph zone, police estimate.
A 5-year-old boy whose bicycle still had training wheels was struck by the car driven by the former professional wrestler, who was speeding and drunk, and who then took off, police alleged.
Mark Hildreth, 60, is charged with leaving the scene of an injury crash and DUI with injuries.
The boy, whom police did not name, was thrown atop the car's hood, a police report said.
He was taken as a trauma patient to Delray Medical Center, with possible internal injuries and "road rash." Police said the injuries are not life-threatening and he was in stable condition.
In court at the Palm Beach County Jail, Circuit Judge Ted S. Booras set bail for Hildreth at $125,000, with an option for house arrest. Prosecutors said Hildreth had a 2004 DUI arrest in Georgia.
Hildreth — 6-foot-6 and 290 pounds in his prime — spent 12 years in wrestling before retiring in 2002, according to a 2013 Palm Beach Post profile.
We are glad that no one was seriously hurt in this accident which could have easily turned out differently.
How to keep bicyclists safe:
Watch for vehicles coming out of or turning into driveways.
Stop at corners of sidewalks and streets to look for anyone crossing before driving
3 Feet of Clearance: More than 20 states have passed laws requiring motorists to give bicycles on the road about 3 feet of space.
DUI Laws | What You Need to Know
The laws make it illegal for drivers of all ages to operate motor vehicles if they have BAC percentages of:
0.08% or higher, if they're 21 years old or older operating regular passenger vehicles.
0.04% or higher, if they're operating commercial vehicles.
0.02% or higher, if they're younger than 21 years old.
Georgia State law also requires clinical evaluation and the attendance of a DUI / Risk Reduction Program that's certified/licensed by the Georgia Department of Driver's Services before your driver's license can be reinstated if you have been charged with any of the following:
DUI
Drug Possession
Other drug offenses
Under-age possession of drugs or alcohol
Before getting behind the wheel after having a few, consider the many reasons why you should not.
For more information about DUI School visit www.a1drivingschools.com or call (770) 962-9555!
From everyone here at A-1's Driving School, we would like to wish everyone a safe, festive holiday!