All persons involved in the accident were transported to Northeast Georgia Medical Center," the sheriff stated. "Sadly, one student succumbed to his injuries and was pronounced deceased at the hospital."
The Georgia State Patrol has since identified the deceased driver as 17-year-old Carlos Christo Morales of Baldwin. The GSP reports that Morales was riding with his brother and cousin in a Ford F-150 pickup truck when a Jeep Cherokee crossed the center line and ran into them head-on.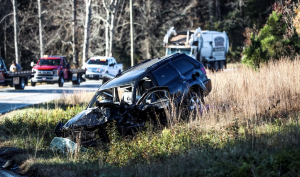 The other driver, Cherrie Pulido of Mt. Airy, now faces charges of driving under the influence, failure to maintain lane, failure to exercise due care, tire requirements and homicide by vehicle in the first degree.
She will be booked into the jail when released from the hospital, however, a spokesperson for the GSP said that she is being treated for serious injuries.
The other two teens who were riding with Morales, both 15 years old, didn't have any serious or life-threatening injuries according to the trooper who filed the report.
The sheriff added that his office and the school system have put into place a support system for students, faculty, and staff following the tragic news.
Habersham Central High School counselors will be visiting classes of the three students who died to inform them of the tragedy and offer "support passes" to allow them to leave class or be excused to meet with counselors. Counselors will also be stationed in the staff development room at the high school to provide services to any students, faculty or staff.
Georgia State law also requires a clinical evaluation and the attendance of a DUI / Risk Reduction Program that's certified/licensed by the Georgia Department of Driver's Services before your driver's license can be reinstated if you have been charged with any of the following:
DUI
Drug Possession
Other drug offenses
Under-age possession of drugs or alcohol
Before getting behind the wheel after having a few, consider the many reasons why you should not.
For more information about DUI School visit www.a1drivingschools.com or call (770) 962-9555!
Our condolences go to the family and friends of Carlos Morales, along with those impacted by this tragic accident.