The victim of a fatal car accident on McGinnis Ferry Road in Suwanee was a Peachtree Ridge High School junior.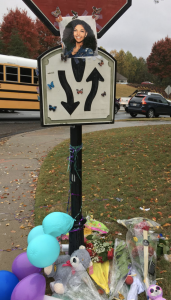 Police said Samarah Masih was in her vehicle waiting to exit an apartment complex on McGinnis Ferry Road near Scales Road when a red Dodge pickup truck hit multiple vehicles before swerving into a private drive where it hit her car.
Police identified the driver of the pickup as 47-year-old Sugar Hill man, Sean Taylor. Police said charges are pending. Taylor was hospitalized at Northside Hospital-Gwinnett after the incident with non-life-threatening injuries, police said.
The Suwanee Police Department and Lilburn Accident Investigation Unit are working together. Suwanee police spokesperson Robert Thompson said Suwanee may bring in Georgia State Patrol to assist in mapping out the accident.
The accident happened at the Residences on McGinns Ferry apartment complex, located at 4025 McGinnis Ferry Road, police said.
Right now there is no further information about the accident.
Here are some quick tips for motorists:
Get plenty of rest. Symptoms of drowsy driving can include having trouble keeping your eyes open, drifting from lanes, or not remembering the last few miles driven.
Get some shades. Wear high-quality sunglasses and adjust the car's sun visors as needed to avoid glare in the morning.
Change driving habits. Reduce speeds and increase following distances, especially in more populated areas.
Ditch the distractions. This can include cell phones, infotainment systems, or clocks that need to be turned back an hour.
Use the headlights. This can make you more visible to pedestrians in the morning and evening. Don't forget, even though the time changed, many will stick to their normal habits of walking home or exercising in the later hours.
Remember to yield. Pedestrians have the right of way in crosswalks. Also, don't pass vehicles stopped at crosswalks. Remember to yield the right of way to pedestrians in crosswalks.
The same safe driving practices that are taught in A-1's Defensive Driving Class can apply to be a safe driver in a car and on a motorcycle. There is a lot of very useful and informative information in the class and it will apply whether you have been driving for years or you are a brand new driver.
For more information about class schedules or to see A-1's 19 convenient locations call (770)962-9555 or visit us at www.a1drivingschools.com!
Our condolences to the family and friends of Samarah Masih.