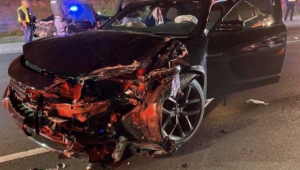 Officials say the crash happened on Georgia-400 South near Windsor Parkway around 1 a.m.
According to police, the officer was inside his patrol vehicle fully visible on the right shoulder with his emergency lights on when 24-year-old Khiry Smith ran into him.
Medics rushed the officer to a nearby hospital where he was treated for his injuries.
Smith has been charged with DUI, violation of the Georgia Move Over law, open container, and reckless driving.
Move Over Law:
 The operator of a motor vehicle approaching a stationary authorized emergency vehicle that is displaying flashing yellow, amber, white, red, or blue lights shall approach the authorized emergency vehicle with due caution and shall, absent any other direction by a peace officer, proceed as follows:
1. Make a lane change into a lane not adjacent to the authorized emergency vehicle if possible in the existing safety and traffic conditions; or
2. If a lane change under paragraph (1) of this subsection would be impossible, prohibited by law, or unsafe, reduce the speed of the motor vehicle to a reasonable and proper speed for the existing road and traffic conditions, which speed shall be less than the posted speed limit, and be prepared to stop.
Violation of subsection (a) or (b) of this Code section shall be punished by a fine of not more than $500.00.
There is a lot of useful information such as this Move Over Law that is taught in driving the class and it will apply whether you have been driving for years or you are a brand new driver!
For more information about class schedules or to see A-1's 19 convenient locations call (770)962-9555 or visit us at www.a1drivingschools.com!