A star UNLV basketball recruit was charged with driving under the influence of marijuana in a high-speed crash that killed a 52-year-old Las Vegas school custodian.
Attorneys for Zaon Collins appeared before a Las Vegas judge who let him remain free from jail with electronic monitoring but banned him from using drugs or alcohol pending a Feb. 17 preliminary hearing of evidence.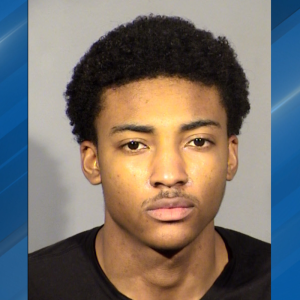 Combined, the charges against the 19-year-old Collins, including reckless driving, could have him face up to 26 years in state prison.
Clark County District Attorney Steve Wolfson said blood tests showed Collins had 50% more marijuana metabolite in his system than allowed and police determined the 2016 Dodge Challenger he was driving was traveling 85 mph (137 kph) in a 35 mph (56 kph) residential area before the Dec. 30 crash killed Eric Echevarria of Las Vegas.
Police said Echevarria was making a left turn when his 2016 Hyundai Accent was struck by Collins' car.
Echevarria's death drew an outpouring of grief from family members and friends. He grew up in the Bronx, New York, and was an Army and National Guard veteran who worked as an elementary school custodian, the Las Vegas Review-Journal reported. He is survived by his wife, a teenage son, four adult stepchildren, and several grandchildren.
Collins was a star player at Bishop Gorman High School in Las Vegas and was a top college prospect when he committed to UNLV.
Our thoughts and prayers go out to the family and friends of Eric Echevarria.
DUI Laws | What You Need to Know
The laws make it illegal for drivers of all ages to operate motor vehicles if they have BAC percentages of:
0.08% or higher, if they're 21 years old or older operating regular passenger vehicles.
0.04% or higher, if they're operating commercial vehicles.
0.02% or higher, if they're younger than 21 years old.
Georgia State law also requires a clinical evaluation and the attendance of a DUI / Risk Reduction Program that's certified/licensed by the Georgia Department of Driver's Services before your driver's license can be reinstated if you have been charged with any of the following:
DUI
Drug Possession
Other drug offenses
Under-age possession of drugs or alcohol
Before getting behind the wheel after having a few, consider the many reasons why you should not.
For more information about DUI School visit www.a1drivingschools.com or call (770) 962-9555!