When New Jersey lawmakers debated earlier this year whether to legalize recreational use of marijuana, the Garden State's police organizations were adamantly against it.
The cops said that legal weed might lead to an explosion in the numbers of impaired drivers operating under the influence. And the police would be caught flatfooted trying to tell whether drivers they pulled over were high or not.
"With alcohol, if you have over 0.08% in your blood, there's the presumption that you're intoxicated," said Christopher Leusner, head of the New Jersey State Association of Chiefs of Police.
"There hasn't been a blood test or a breath test that can determine if you're impaired by marijuana."
Now there is.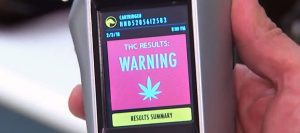 It's a breathalyzer device developed by Hound Labs in Northern California. It's portable and can run tests for both alcohol and marijuana. It just may change the minds of many of those reluctant police officers, including in Pennsylvania as lawmakers consider several proposals to legalize recreational marijuana use.
Intrinsic Capital Partners, a Philadelphia growth equity fund, is so convinced of a "potential massive market" for the device that it led a $30 million Series D financing round to bring it to market in 2020.
Mike Lynn, a veteran emergency department physician from Oakland, Calif., developed the Hound in collaboration with researchers from the University of California at Berkeley and San Francisco.
Lynn also happens to be a reserve deputy sheriff.
"It's about creating a balance of public safety and fairness," Lynn said. "I've seen the tragedies resulting from impaired driving up close. And I have a good idea how challenging it is at the roadside to know whether someone smoked pot recently. But I believe if someone is not stoned, they shouldn't be arrested."
Blood tests for marijuana can return a positive result even if someone has used cannabis within the last three weeks.
Lynn claims that his device can detect whether someone has smoked or ingested a marijuana edible within the last three hours.
Police have depended on the skunky stench of burnt marijuana to provide probable cause to search a car or conduct a field sobriety test on a driver. But a recent court ruling in Pennsylvania maintained that the smell alone isn't sufficient reason to initiate an arrest.
In addition, cannabis consumers in many states are slowly trending toward edibles — from pot brownies to infused beverages and lozenges — and, until the recent scare, vaping.
So the breath analyzers appear to be arriving at the perfect moment.
In about eight months, Lynn's team was able to detect THC in the breath of smokers. It took five more years to consistently and accurately measure levels with a machine with a cost in reach of most police departments and employers.
DUI Laws | What You Need to Know
The laws make it illegal for drivers of all ages to operate motor vehicles if they have BAC percentages of:
0.08% or higher, if they're 21 years old or older operating regular passenger vehicles.
0.04% or higher, if they're operating commercial vehicles.
0.02% or higher, if they're younger than 21 years old.
Georgia State law also requires a clinical evaluation and the attendance of a DUI / Risk Reduction Program that's certified/licensed by the Georgia Department of Driver's Services before your driver's license can be reinstated if you have been charged with any of the following:
DUI
Drug Possession
Other drug offenses
Under-age possession of drugs or alcohol
Before getting behind the wheel after having a few, consider the many reasons why you should not.
For more information about DUI School visit www.a1drivingschools.com or call (770) 962-9555!