The Governor's Office of Highway Safety and Georgia State Patrol remind drivers and passengers that the recipe for safe driving starts with buckling their seatbelt before every trip!
Those who do not comply with Georgia's seatbelt law may come down with a case of "Click It or Ticket". State and local law enforcement will be issuing citations during increased Thanksgiving travel period patrols.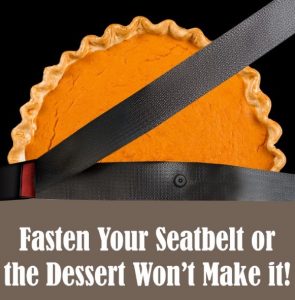 "Troopers and Motor Carrier Compliance officers will be out in full force during this Thanksgiving holiday period," Georgia Department of Public Safety Commissioner Col. Mark McDonough said. "Thanksgiving is one of the most widely traveled holidays of the year and because of that, motorists should expect heavier traffic throughout the holiday. In order to make traveling safer, motorists should drive the legally posted speed limit, have every person in their vehicle properly restrained, and never drive distracted or impaired."
Why is it so important? Because during the 2017 Thanksgiving travel period (6 p.m. on Wednesday, Nov. 22 to 5:59 a.m. on Monday, Nov. 27), 365 people were killed in traffic crashes nationwide. Nighttime proved even more deadly as it accounted for 57 percent of crashes during the Thanksgiving travel period.
In 2018, traffic crashes across Georgia during the 102-hour Thanksgiving travel period (6 p.m. on Nov. 22 to 11:59 p.m. on Nov. 25) resulted in 15 fatalities. In addition to the crashes, the Georgia State Patrol alone issued 11,523 citations, 17,046 warnings and arrested 339 people for driving under the influence.
The best defense against all of those careless drivers is a buckled seatbelt.
"More than half the people killed in traffic crashes in Georgia last year were not wearing a seatbelt and many of those who died likely would be alive today had they clicked that seatbelt," GOHS Director Allen Poole said.
According to NHTSA, there have been more alcohol-related fatal crashes surrounding the Thanksgiving holiday weekend than any other holiday period during the year. If alcohol is part of the reunion plans, family members and friends need to arrange a sober ride home before the night begins.
"Don't let a DUI crash ruin what is supposed to be a great time of fellowship with family and friends," Poole said.
Make that plan for a sober ride home before the night begins.
All motorists can use the following tips to stay safe, focused, sober and patient while traveling:
Plan ahead for a sober ride.
Arrange for a designated driver, use a rideshare service or program the numbers for cab companies into your phone.
You can also plan to use public transportation, but check schedules ahead of time in case service is altered during the holiday.
Don't try to make up time by speeding. Because of extra traffic on the road, leave for your destination earlier than needed to allow for increased travel time.
Make sure everyone in your vehicle is wearing their seat belt and all children under 8 are riding in an approved child passenger safety seat or booster seat.
Limit driver distractions by staying off phones. Program GPS before you get on the road or have a passenger be in charge of navigation.
Take breaks to avoid drowsy driving: Plan rest stops as needed and alternate drivers if possible!
The same safe driving practices that are taught in A-1's Defensive Driving Class can be applied to be a safe driver in a car and on a motorcycle. There is a lot of very useful and informative information in the class and it will apply whether you have been driving for years or you are a brand new driver.
For more information about class schedules or to see A-1's 19 convenient locations call (770)962-9555 or visit us at www.a1drivingschools.com!