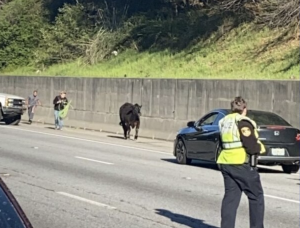 If you were driving on that stretch of highway around 9 a.m. or so, no, your eyes did not deceive you. It really was a cow that you saw running against traffic for reasons nobody is quite clear about.
No, it's not the first time there's been a "loose animal" on a Metro Atlanta interstate. This time, it was on Saturday morning on I-285 west, just before Ashford-Dunwoody Road.
Dunwoody police say the cow somehow fell out of a livestock trailer. Police say it took some help from a handful of officers and a citizen with a rope to finally capture the loose cow.
Nearly an hour, things slowly began returning to normal.
There were reports of a crash in the area and at one point, three lanes on the highway were closed. It is not yet clear if the cow was involved or not.
Motor collisions continue to injure and claim the lives of many people every year.
It is recommended that drivers practice defensive driving at all times to avoid collisions!
Drivers are advised to not drive too closely behind other cars so that they can have more time to maneuver in case those vehicles abruptly come to a stop.
Drivers should also activate their car signals whenever they decide to change lanes, turn a certain direction, speed up, or slow down.
Car owners must also carry out regular and proper maintenance of their vehicles.
The same and more safe driving practices that are taught in A-1's Defensive Driving Class can apply to be a safe driver in a car and on a motorcycle. There is a lot of very useful and informative information in the class and it will apply whether you have been driving for years or you are a brand new driver!
For more information about schedules call (770)962-9555 or more details can be found on A-1's official website www.a1drivingschools.com.