Silento, or Richard "Ricky" Lamar Hawk, was charged with reckless driving, speeding, failure to maintain lane, and improper stopping, news outlets reported.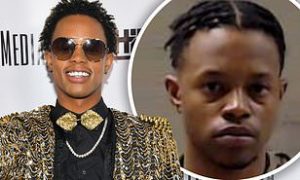 A DeKalb police report said Hawk was pulled over around 3 a.m. after an officer witnessed Hawk's white BMW swerving around slower cars.
The report said Hawk initially argued with the officer about how fast he was going and insisted that he'd done nothing wrong.
Later, Hawk told the officer he was speeding because he normally gets followed when leaving events. He was at a club promoting his new song and that he could go 143 mph because he's not "a regular person," the report said.
The arrest comes a month after Hawk was charged with assault with a deadly weapon. Hawk was accused of walking into an unlocked stranger's home in the Valley Village area of Los Angeles and swinging a hatchet at the two people inside before one of them disarmed him.
Prior to that arrest, he was charged with inflicting corporal punishment on a spouse or cohabitant at a Santa Ana home on Aug. 28.
Speeding causes accidents!
Whether you are 15 and in need of taking the course or 45 and you just want to brush up on the rules and regulations of driving, A-1 Driving School is here to help!
Atlanta Drivers Education has been mandated for all 16-year-old drivers. We are here to spread the awareness of safe driving habits and that driving is a very serious responsibility.
We have 19 convenient locations around the metro Atlanta area offering different programs. For more information call (770)962-9555 or visit us at www.a1drivingschools.com!