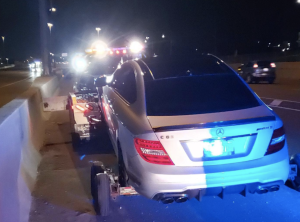 With fewer drivers on the road during the coronavirus pandemic, police in the Toronto region have charged at least 150 people with street racing or stunt racing — including a 19-year-old driving 191 mph.
The Ontario Provincial Police has seen a rise in "stunt driving" cases.
An OPP officer pulled over a 19-year-old along the Queen Elizabeth Highway in Ontario for driving 308 kph (191 mph)!
"This is the fastest speed that I've ever heard of," Sargent Kerry Schmidt said.
Schmidt noted that the speed limit is 100 kph (62 mph), and there are areas where it reaches 110 kph. The driver was going triple the speed limit.
The driver was charged with street racing and criminal dangerous driving, and his license was suspended for seven days and his father's car was impounded for seven days. Licenses are automatically suspended for seven days and cars are automatically impounded for seven days for this type of violation in Ontario.
Speeding causes accidents!
Whether you are 15 and in need of taking the course or 45 and you just want to brush up on the rules and regulations of driving, A-1 Driving School is here to help!
Atlanta Drivers Education has been mandated for all 16-year-old drivers. We are here to spread the awareness of safe driving habits and that driving is a very serious responsibility.
We have 19 convenient locations around the metro Atlanta area offering different programs. For more information call (770)962-9555 or visit us at www.a1drivingschools.com!